What You See Is What You Get - Judging of the Smooth Chow Chow.
by Specialist Judge - Gillian Claxton, Tsuni Chow Chows, UK
Our enquiries about internationally respected specialist judges specifically as related to smooth chow chows, led us back to the UK & more specifically - Mrs Gillian Claxton. A bit of background on the author: "I never remember life without Chows and dog showing. Before I left school I was grooming & handling my mother's chows and campaigned both Ch. Chanoyu Golden Gem and Ch. Chanoyu Golden Marcus to their titles in the days when the open classes were filled with champions. In my first litter I bred Mrs. Martin's Ch. Chanoyu Christmas Carol of Nitram. Later I took out my own affix of Tsuni & have owned and/or bred many CC winners - the best known being Ch. Tsuni Airs 'N' Graces. I am very keen on the Smooth Chow and believe that breeders have a duty to ensure that they do not disappear from the showring again. I was show manager of the Chow of the Year show for a few years and am now the Secretary of the National Chow Chow Club. I first awarded CC's in 1978 and have judged at Crufts as well as abroad in Russia, Germany, France, Italy and Denmark."
I am firmly of the belief that you cannot judge a chow without using your hands as the eyes only see the outline produced by the preparation of the coat. Unfortunately in many countries it is quite usual for exhibitors to scissor the coats of rough chows into shape. Even though the Breed Standards may prohibit this, it doesn't seem to be enforced, so it is up to the judge to penalise where necessary or at least judge the dog and not the artificial shape.
When judging a smooth chow "what you see is what you get". As there are so few smooths in the UK we have tended to show all smooths regardless of quality and this may have fuelled the prejudice which still exists here. However, a really good quality smooth chow is able to hold it's own against the roughs. For those of you who aspire to judge our beautiful breed the following thoughts may be of help.
General Outline
Please remember that a rough may have been scissored to improve certain points so look closely.
Coat
Whilst some Countries use the word "Smooth" to describe the coat it is also known as "Short Coated" and this may well be a more accurate description. As with the roughs it is quite usual for the length of coat to vary with the Smooth Chows. It must, however, always be of uniform length which gives it the "Plush" appearance.
There must be no mane and no featherings on the tail and legs but some do have a slightly longer coat at the shoulders as do the roughs. In the UK we call this the "second rough" as we usually refer to the mane as the "rough". Unless the maximum length of coat is specified in the Breed Standard then you should not penalise a smooth on this point any more than you would a rough coat.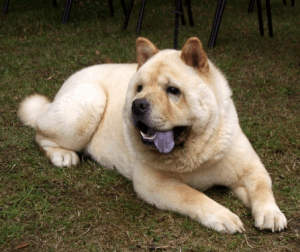 Bone
A smooth will never appear to have as much bone in the legs but you must handle the legs to realise how little depth of coat there is. Remember what your rough looks like when he sheds his leg fur!
Ears
Don't be fooled into thinking that all smooths have big ears. You must feel the ears to check for size and thickness. A smooth doesn't have a mane to hide his ears so feel right down to the base of the ears of a rough and then compare the size to a smooth. You will find large and small ears on both varieties.

Head
Even with roughs you will find the heavier coated tend to have more expression so a smooth with their very short facial hair can look more plain in face. You will need to look closely and remember this point. If you check some of the really old photos when the chows were not so heavily coated you will see that some are not unlike today's smooths.
Tail
In many countries it has become the accepted practice to trim the coat around the base of the tail of roughs and this can make them appear higher set than they are. This is not possible with a smooth so once again check carefully and don't penalise a smooth unjustly. Tailset.
Balance
This again can be deceptive. A well feathered tail which reaches the neck will help a dog appear shorter in back than he is. The best way to check balance is to view the distance underneath the belly from front to back legs. A really well balanced dog will be square here as well as in outline. As well as helping you to judge a smooth it will also aid the judging of roughs correctly.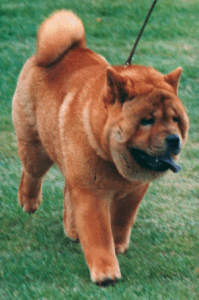 Hocks
Many people complain that the smooths are "too long in hock". They are referring to the length from hock joint to ground. Some may be – but not all! You must feel for the hock joint in the rough to check for this point. A profuse coat, well prepared, can be very deceptive and I always check this even when only judging roughs.
Movement
In actual fact the movement on a rough can be distorted by a profuse coat. Too much feathering front and back can be detrimental to the rough whereas the smooth may well have the advantage here. Large amounts of hair on the hocks can make a dog appear to move close at the back and with excess hair on the front legs a dog may seem to move incorrectly at the front. I do hope these observations will be of assistance whether you wish to judge or not. It is so important that both varieties thrive and it is our responsibility as chowists to ensure the smooths are given a fair chance.