Understanding Your KUSA Pedigree

The KUSA (Kennel Union of Southern Africa) Pedigree is considered to be the most definitive dog pedigree in Southern Africa. It is the most accurate and most reliable indicator of your Chow Chow's genetic background and the main reason why you have chosen to purchase a registered puppy. What exactly do all those abbreviations, numbers and names stand for? We decipher the KUSA Pedigree for you...
Benefits of a Pedigree to the buyer:
If you only want a nice looking Chow Chow and are not too concerned about it's general health, then the pedigree guarantees you that the puppy comes from definite sets of parents/grandparents. Simply observe the parents' and grandparents' photos and you have a general idea of what your pup will look like. There are a wide variety of 'looks' (styles) in Chow Chows whilst they still can gain show ring titles. Despite the show ring titles, you may not like the looks of the chow chow. Show titles simply mean that the dog conforms to the breed standard in a number of judges' opinion and is well trained and groomed.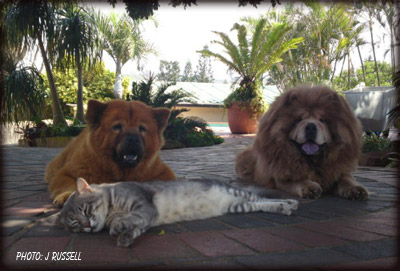 If you not only want a handsome dog but also as healthy as possible a dog, understanding the KUSA pedigree will enable you to ascertain if the person breeding these Chow Chows cares enough to do health certification on the parents. You can see how far back in the pedigree health certification has been done. The further back in the pedigree it has been done on as many ancestors as possible means that you have a dog where much effort has gone into understanding and planning the genealogy & therefore your possibilities of obtaining a Chow Chow of general good health. Health certification will never be all clear as perfection does not exist and the genepools are limited, but obviously the more of these are clear, the stronger your chances are of a healthy puppy.
When there is no health certification done (particularly on parents) - or if done only sporadically in the pedigree - you are dealing with an unknown situation and the risk you take in terms of potential poor health is so much higher. You should NOT be paying a premium price for such a puppy. These untested dogs could be passing on very poor genes without manifesting it physically when you see them. The fact that a dog is imported is of no consequence to your quest, unless it is also health certifiied and other dogs it's pedigree are also health certified. It is simply a fresh (and expensive) set of imperfect genes for breeders to work with.
Ultimately it is your decision, you take the risk. Make it an informed decision by understanding your Chow Chow's pedigree. Let us take a closer look at a pedigree.
Along the top section of the pedigree:
Breeders Name & Member no, Owners Names (this will change when you send it in to KUSA for transfer of ownership), Breed (in this case the chow chow). Registered name, Date of Birth, Sex, Colour, and Registration Number.
Notations:
A block, either empty or with either or both of the following phrases: (Generally only noteworthy if you intend breeding/showing your chow chow.)
"Progeny not eligible for registration" . This means that puppies from this dog cannot be registered with KUSA unless the breeder (ONLY THE BREEDER CAN!) lifts this restriction with KUSA. Agreement by the breeder to do this should always be obtained on paper if required, at the time of purchase! (Usually subject to certain requirements by the breeder.)
"Not eligible for export". This dog cannot obtain an export pedigree from KUSA unless the breeder (ONLY THE BREEDER CAN!) lifts this restriction with KUSA. Agreement by the breeder to do this should always be obtained on paper if required, at the time of purchase! (Usually subject to certain requirements by the breeder.)
NOTE: These restrictions may be lifted on KUSA's discretion (irrespective of the breeders' wishes) should you not have received clear information about these restrictions in writing from the breeder, prior to your decision to purchase the puppy (usually stipulated in a purchase contract or written conversations).
Registered name of the dog:
1st word is usually the kennelname of the breeder, eg: "Greatkennel" .... Next words are the actual name of the dog, eg: Sasha followed by "of .... ". When present, this indicates the kennelname of the 1st owner adding such, eg: "of Famouskennel"
If you have just bought your chow chow, then the breeder/previous owner is still the registered owner of the dog. At the back of the form, the breeder/previous owner should have:
* filled in date of dog handed to new owner (you can fill it in as well).
* filled in and signed section B (if they are a member of KUSA their membership number is necessary!) in order to transfer the dog from their ownership to your ownership.
* Section A can be filled in by the new owner if they have a KUSA registered kennel name.
* After adding the new owner's details & signature in section C, the original is mailed off to KUSA (registered mail preferable),
who in turn will forward you a new certificate listing the new owners. For relevant fees, please contact the KUSA offices or the breeder.)
The transfer of ownership becomes particularly important if you would like to breed with or show the dog at any point in the future.
On the front of the pedigree, in the numbered section below the ownership details is the dog's genealogy, listed as follows:

1. Father:
Titles listed before the dog's name could be:

* Ch = Champion (South Africa), or there could be titles denoting various championship titles in other countries.
* First part of name (word) likely is the kennel name of breeder of dog
* Next word(s) - registered name of dog
* of ... (word) - kennel name of (first) owner of dog
additional titles can appear behind the dog's name:
HD - Hipdysplasia grading:
0/A1/A2/B1 = no dysplasia, 1/B2/C1/C2 = slight dysplasia, 2/D1/D2 = moderate dysplasia, 3/E1 = much dysplasia, 4/E2 = very poor hips
ED - Elbowdysplasia (grading as for hips),
CGC - Canine Good Citizen, APT = aptitude, Imp = Imported & country listing follows, etc

The number behind the name is the dog's registration number with KUSA.
Same applies to the rest of the pedigree.
2 = Mother, 3 = Father's father (paternal grandfather), 4 = Father's mother (paternal grandmother)
5 = Mother's father (maternal grandfather), 6 = Mother's mother (maternal grandmother),
7-10 = Paternal greatgrandparents, 11-12 = Maternal greatgrandparents.