Smooth Chow Chows in Africa

The smooth (short hair) Chow Chow has been present in Africa for at least 75 years, as documented by photographs and other records. Early breeders established the breed's presence in Southern Africa some 100 years ago, both showing the smooth and including these in their breeding programs. Although numbers have always been relatively small, in the 21st century, several breeders are documented as continuing to include smooth Chow Chows in breeding programs, with the pet owning public thoroughly enjoying this beautiful variety.

Smooth Chow Chows were also seen in the show ring in the first half of the 20th Century. This photograph of red smooth Champion Grant's KiKi (Ch Grant's Glenhaven Kuan Chung x Grant's Longacre Reno. KUSA Reg No: 49219; DOB 25/01/1940; O: Mrs Philipson; B: Mrs D Grant) show one of the early smooths which gained championship.
"Smooths have always had a hard time in the show ring. They have always had to compete against the roughs for top honours. Due to their coat, the true construction of the dog is there for all to see - no possibility of hiding any fault or weakness under a coat. The smooth has also kept faithfully to the original type of Chow rahter than conforming to the passing fashions of heavier type, which has happened to their rough brothers. They do lose a little superficial glamour in comparison with roughs but a smooth with good conformation is a Chow of great majesty and presence."
The Chow Chow by Diana Phillips published by Petlove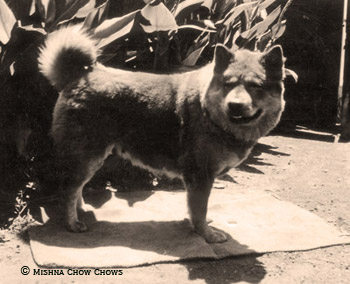 Not much information is available on the smooth Chow Chow in earlier years in Africa. They were imported, along with rough Chow Chows, into Southern Africa from the turn of the century, throughout the decades ensuing, by breeders who established the Chow Chow in South Africa. As it was considered just another Chow Chow, no differentiation was made.
This rare, complete record of an early South African Chow Chow includes a photograph, which enables us to verify this particular Chow Chow as a smooth. Reno was imported into Southern Africa by Mrs AE Tidd:
Long Acre Reno (Imp UK), whelped April 1, 1937, bred by Mrs E A Squire (UK)
Full pedigree details here...
Pictured left: Long Acre Reno (Imp UK)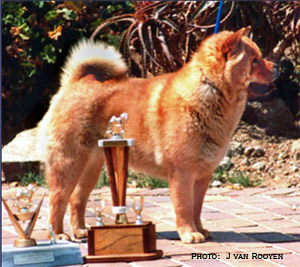 In a bid to regenerate the numbers of the smooth chow chow in Southern Africa, in the mid 1980's, two smooths were imported to South Africa from the USA by George & Julia van Rooyen (Roseneath Kennels) in co-ownership with Dr Samuel Draper (Liontamer Kennels - USA).
Left: Red smooth female
BISS Ch Roseneath Liontamer Kimera (Imp USA)
Kimi made history for smooths in Southern Africa during this time in that she was awarded Best in Speciality Show! At the time of finishing her championship in 1987, as far as Dr Draper could establish, she was the only smooth bitch in the world holding a championship title!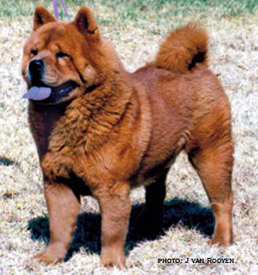 George & Julia report that due to a lack of interest and support from main stream breeders - who were all then focused on the rough variety - the three smooth bitch puppies from the van Rooyen's only litter, were exported to the Netherlands and they stopped breeding chow chows.
"The smooth coated variety of the Chow has a history at least as old as the rough coated variety. It is possible that it may even have been the original Chow. Certainly, when Chows were first brought into England there were as many smooths as roughs imported."
The Chow Chow by Diana Phillips published by Petlove
Left: Self-red smooth male
Ch Roseneath Liontamer Knockout (Imp USA) - O: G & J van Rooyen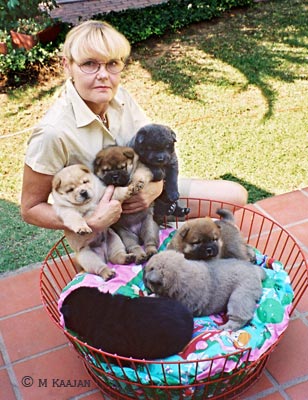 It would only be from 2000 onwards, when some breeders again made a concerted effort - this time with good success - that regenerating numbers of the smooth Chow Chow in South Africa took place.
At that time several smooths were imported from Sweden by Mrs Kaajan (Okzanna) in co-operation with Mrs Leroy (Ciao). Mrs Kaajan also imported sperm from a top winning Scandinavian red smooth, Nugget (RBISS Ch (Int, Nor, Fin) C'hengtus Golden Nugget) from which no puppies resulted. Of the imports, black smooth Nickelodeons Alea Iacta Est produced offspring, but they did not continue in breeding programs.
In the ensuing years, the smooth chow chow has gained excellent popularity with prospective pet owners, and a number of breeders included it in breeding programs at various times during this period.
Left: A rare "rainbow litter" - all 5 colours in one litter, and all smooth at that -
were born in 2002 at Okzanna Chow Chows
"There is a well known pottery figure in the British Natural History Museum dating from 150 BC which is obviously a representation of a smooth-coated Chow wearing a strong harness. The smooth may be the original type of this breed but is, in any case, as old as the rough.
In the latter half of the last century, when many foreign breeds were being introduced into England in increasing numbers, there were probably nearly as many smooths as roughs imported from China, and these competed on equal terms at the shows. The critiques did not always distinguish the coats."
Chow Chow by Beverley Pisano, published by TFH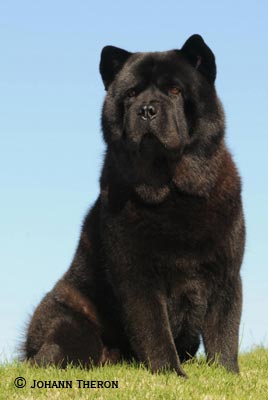 Gaining KUSA championship after more than a decade of absence from shows for this variety, was Ch Gurkans Underbart Ar Kort of Okzanna (Imp Sweden) in 2001. In 2006 he made modern show ring history in South Africa by going Reserve Best Puppy in Show and two years later in 2008 he was also the first and as of early 2012, the only smooth Chow Chow to be awarded the title KUSA National Chow Chow in this competition's history.
The August 2010 edition of Animal Talk Magazine included an article on the Chow Chow and in particular featured a number of photographs of the smooth variety. This positive education assisted in getting the smooth Chow Chow to become better known as a variety in it's own right.
Obtain your copy from Panorama Publications.